20 décembre 2009
7
20
/

12
/

décembre
/

2009
19:12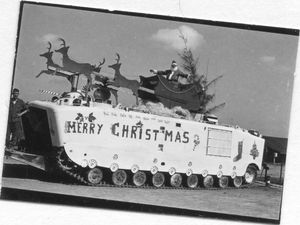 Copyright NARA

Hello,
I was thinking of adding a christmas banner on the blog and I remembered I get this picture scanned at the National Archive and Records Administration in Washington.
The caption says :

"Danang, Vietnam, 21 dec 1965
Christmas Craft : Marines in vietnam provided a new mode of transportation this year for Santa Claus. Ten men of the 1st amphibian tractor battalion spend 36 hours decorating this LVTP5. Above the merry christmas sign, printed in vietnamese : "peace on earth good willing men". The LVT had been especially decorated for santa's trip down the Han river, 2 miles south of Danang, to pass out presents to the children of a sampan fleet. The LVTP5 was tagged the "jingle bell special". the artist, although, added his own slogan on the rear of the craft : "bong bong, beat the cong" Defense. Dept marines corps

So I wish you peace, love and happiness at christmas throughout the year.


I take a week off to do snowboarding and spending time with my family

. I will be back before the end of the year with some good stuff for those who like funny shermans.
Take care,
E.